2023 Pinarello F7 Disc Ultegra Di2 Road Bike
Product Description
2023 PINARELLO F7 DISC ULTEGRA DI2 ROAD BIKE
The Pinarello F7 is built purely for racing performance on the road; simple as that. It comes in at a much lower price than the Tour-winning Dogma but still packs plenty of speed to compete at a high level. The F7 is not a climbing bike, an aero bike, or an endurance bike; it is an all-around performance bike with no compromise. This bike is for the rider who wants to climb with ease, sprint ahead of the pack, and descend with confidence. Compared to the X, the F is more speed focused and less of an endurance bike but can still be ridden for miles on end. Pinarello knows that most F-Series models will never be raced, but they made sure that your daily ride will be had with race-level speed.
The frame of the F7 is made with T900 carbon fiber with a 3K finished. Pinarello teamed up with world class carbon manufacturer Toray to create a carbon layup that is light, strong, and stiff, with targeted areas for each. This allowed them to create a frame that is as lightweight as possible without sacrificing the strength and stiffness you need. T900 is a step below their T1100 carbon, giving you a much lower price on a material that still boasts high-level performance. With T900 3K carbon, you can count on a balance of reactivity, vibration dampening, and low weight.
Like most of Pinarello's high-end bikes, the F7 features an asymmetric frame. The thrust from pedaling applies equally to both sides, but the pull of the chain applies only to the right side. With asymmetry in the power of your drivetrain, it is up to the shape of the frame to balance those forces. The geometry of the frame is centered around the core values of Pinarello racing frames. The company is responsible for over 30 Grand Tour victories and about 70 years of elite performance. The F7 delivers the classic Pinarello race geometry to keep you at your fastest.
At the front of the F7, you will find the classic Onda Fork. This fork has been featured on tons of Pinarello race bikes since 2000 and is always improving. Its unique shape provides precise turning ability as well as stability. It also reduces the amount of shock from the road, both laterally and longitudinally. The F7 also supports internal cable routing with its TiCR system. This version is equipped with a Shimano Ultegra Di2 groupset for high-level 12-speed electronic shifting at a lower price. The Pinarello F7 is a high-level performance road bike that will make you feel race ready on your daily ride.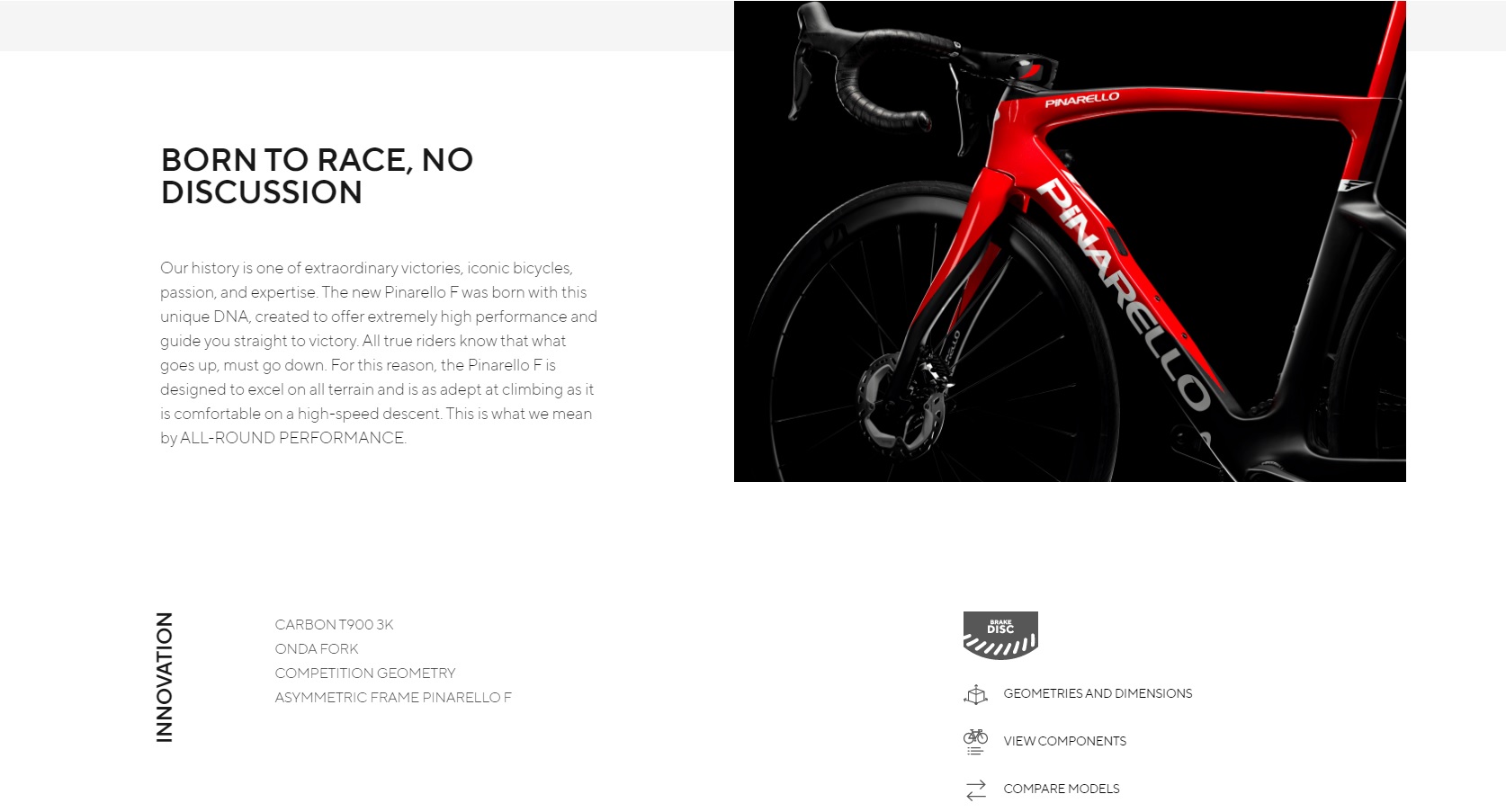 SPECIFICATION :

FRAMESET
FRAME
• TorayCa T900 UD, TiCR™ cable routing, Italian BB, UCI approved
DRIVETRAIN
CRANKSET AND CHAINRINGS
• Shimano Ultegra Di2 FD R8150 12S
FRONT DERAILLEUR
• Shimano Ultegra Di2 FD R8150 12S
CASSETTE
• Shimano Ultegra Di2 FD R8150 12S
CHAIN
• Shimano Ultegra Di2 FD R8150 12S
BOTTOM BRACKET
BRAKES
FRONT BRAKE DISC
• Shimano Ultegra R8150, 2 pistons caliper, 160mm rotor
REAR BRAKE DISC
• Shimano Ultegra R8150, 2 pistons caliper, 140mm rotor
COCKPIT
INTEGRATED HANDLEBAR
• MOST Talon Ultra Light
BAR TAPE
• most bar tape
SEATPOST
• Pinarello Aero Seatpost
SEAT CLAMP
• fsc frontal seat clamp
WHEELS AND TIRES
WHEELSET DISC
• MOST Ultrafast 40*
AXLES DISC
• Ultra Light Custom Axle 12x100 & 12x142, tool free removal
ACCESSORIES AND NOTES
BOTTLES AND BOTTLE CAGES
• Bottlecage Trap PACF ø 74mm, Fly Bottle Pinarello Bottle 550ml Black