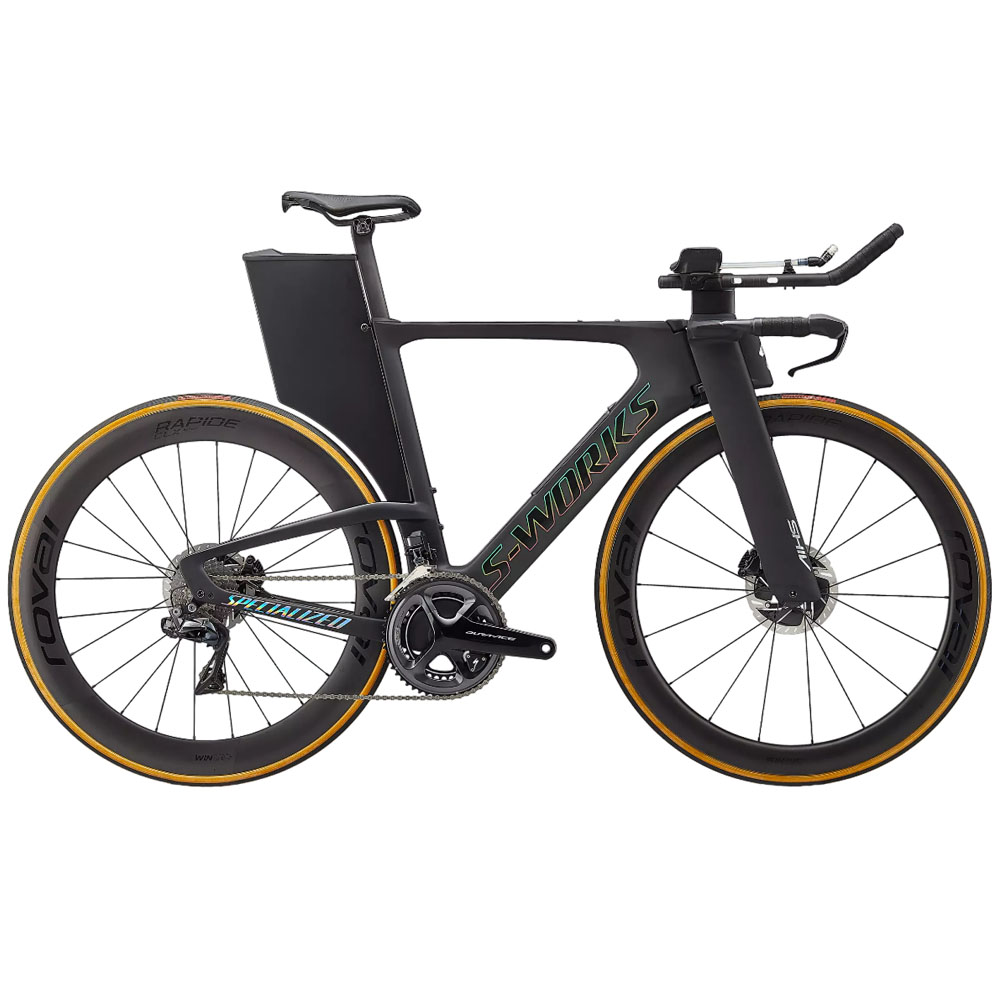 2023 Specialized S-Works Shiv Disc Road Bike
Product Description
2023 SPECIALIZED S-WORKS SHIV DISC ROAD BIKE
We've never been ones for dogmatic rules. And with a little defiance of the UCI's rule book, the Shiv sets the new standard for speed—again. It keeps its aero, fuel, and fit focus, but does so in an entirely new and novel way. Yes, it has disc brakes. Yes, it's easy to travel with. And yes, it takes aero to unheard of heights using storage and fit features that also make you faster. There's only one bike that's going to help get you to the top of the podium this season and that's the Shiv Disc.
To ensure that it's "race-ready, right out of the box," we've spec'd the S-Works Shiv Disc with only the top components. Shimano's Dura-Ace Di2 with hydraulic disc brakes is in charge of both shifting and braking duties. Our S-Works Power Cranks, meanwhile, provide you with all the power data you'd ever need. And for the rolling stock, the Roval Rapide CLX Disc wheels are not only extremely aerodynamic, but they're far lighter than any other wheels in their class.
Pro Tip: Use our Shiv Finder to determine the proper Shiv size for you.
• The incredibly aerodynamic, crosswind-optimized, and non-UCI-legal FACT carbon frame features all the details you've asked for. It's packable, adjustable, has our Hydration and Nutrition Fuelcell systems, and it makes it easy to find your perfect fit. Compared to the fastest 2011 Shiv setup possible (Fuelcell, slammed bars, clean cable routing, BTA bottle), the Shiv Disc is nearly a minute faster over the Kona course. With a more typical Shiv setup, the Shiv Disc is faster by minutes—plural. So, no matter how much you need to carry, you're sure to have the fastest setup come race day.
• What was that about storage? Just like with the original Shiv, the Shiv Disc features both Hydration and Nutrition Fuelcell storage options, but we didn't simply reuse them. Instead, we designed them from the ground up. We moved the Hydration Fuelcell from inside the frame to the rear of the bike. Now, it's entirely hidden within the frame (even the hydration hose), which not only allows for more fluid capacity, but it also helps with aerodynamics. The Nutrition Fuelcell utilizes the additional volume created by the "New Shape of Speed" for the down tube, and this creates plenty of room for snacks. How many snacks? 10-12 gels, 4-5 bars, or 5-6 chews fit with ease, and it can also be removed to easily access the Shimano Di2 A-Junction Box or a flat repair kit.
• We also made sure that the Shiv is plenty adjustable for you to dial-in your fit. The frame comes in four different sizes that are based on over 1,000 Retül fits with actual athletes, all to ensure that your ideal fit is achievable. Our Shiv Finder tool makes it easy to determine your size based on your current position, so getting your most powerful aerodynamic position is easily achievable.
• Adjustability was also high on the list for the aerobars, extensions, and arm pads, so the cockpit is adjustable on nearly every access. Need more or less base bar stack? Simply loosen a single bolt on each side and tilt it up or down. The aerobars, themselves, also offer plenty of adjustability—fore, aft, and pad width, all with aggressive and relaxed positions in mind. An added bonus of this adjustability is the ease of travel. All you have to do is fold the base bar down to the fork, unbolt the cockpit, and your Shiv is ready for the bike box. We couldn't make it any easier.
SPECIFICATION :
FRAMESET
Frame
• S-Works FACT 11r carbon, FACT IS construction, crosswind-optimized airfoils, OSBB, Integrated Fit System, Integrated Nutrition and Hydration Fuelcell, flat-mount disc brakes
SUSPENSION
Fork
• FACT carbon, integrated Fit System, flat-mount disc, 12x100mm thru-axle
COCKPIT
Handlebars
• Specialized Shiv Aerobar, carbon, variable stack adjust
Tape
• Roubaix S-Wrap
Saddle
• Sitero Pro, carbon rails
SeatPost
• Shiv Disc Carbon Post, 0mm Offset
BRAKES
Front Brake
• Shimano Dura-Ace Di2 9170, hydraulic disc
Rear Brake
• Shimano Dura-Ace Di2 9170, hydraulic disc
DRIVETRAIN
Chainrings
• 52/36T
Rear Derailleur
• Shimano Dura-Ace Di2 R9150, 11-speed
Cassette
• Shimano Dura-Ace R9100, 11-speed, 11-30t
Crankset
• Shimano Dura-Ace R9100, HollowTech 2, 11-speed with dual-sided powermeter
Chain
• Shimano Dura-Ace, 11-speed
Bottom Bracket
• OSBB, CeramicSpeed bearings
WHEELS & TIRES
Front Wheel
• Roval Rapide CLX, 21mm internal width carbon rim, 51mm depth, Win Tunnel Engineered, Roval AFD hub, 18h, DT Swiss Aerolite spokes
Rear Wheel
• Roval Rapide CLX, 21mm internal width carbon rim, 60mm depth, Win Tunnel Engineered, Roval AFD hub, 24h, DT Swiss Aerolite spokes
Front Tire
• Turbo Cotton, 320 TPI, 700x24mm
Rear Tire
• Turbo Cotton, 320 TPI, 700x24mm
Inner Tubes
• Turbo Ultralight, 60mm Presta valve